Have you lost your mojo and do not know where to go for help?
Are You Feeling
Alone and invisible?
Lacking fitness and wellness?
In pain?
Lack of community?
Increased weight and hormonal swings?
Tired, angry, lacking energy?
Congratulations. You've taken the first step to being energised, feeling great and looking vibrant!
Our unique YogaPilates Fusion® combines Yoga poses with core-strengthening , muscle lengthening Pilates, left/right brain balancing, plus Cardio moves giving you a great workout which leaves you feeling energised, balanced and relaxed.

For more cardio, toning and weight loss we add optional Hand-weights throughout the classes for that extra boost.

Being a Baby Boomer, my passion is pro-age, healthy ageing and longevity, plus fun and joy. If you love the uplifting feeling of aerobic dance, with beats from the 80's to now, join our A45PLUS Fitness Groove "Lifting your Hearts and Heart Rates" with added core-challenging Pilates, winding down with a relaxing Yoga Nidra.

Are you searching for the dancer within? Join our BodyBarre Pilates® using a ballet barre for agility, co-ordination, strength and flexibility plus core-challenging, muscle lengthening Pilates and relaxing Yoga Nidra meditation.

All classes, One on One Sessions are geared for the individual needs of each participant in mind.

Can't get to a class? Take advantage of our Pre-recorded Online Classes and select the class and time that suits you for Body and Balance Anywhere, Anytime.

Peruse our Classes page to work out which suits your needs best…
Discuss your needs with Jill (free)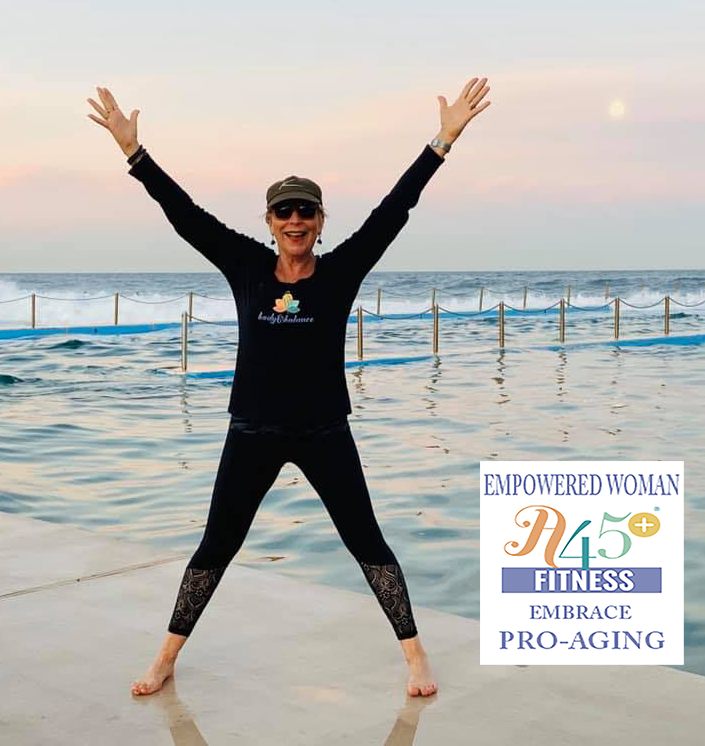 One Month To Be Fitter, Stronger, Happier And Live Longer
Challenge 1
Two 1 on 1 personalised studio sessions
4 X 45 mins ZOOM Consults
Unlimited Classes Face to Face or Live streaming
A Nutrition Guide and Progress Chart
Unlimited pre-recorded classes
A copy of my YogaPilatesFusion book
Challenge 2
One 1 on 1 personalised studio session
4 x 20 mins ZOOM Consults
3 Face To Face Classes or Live Streaming per week
A Nutrition Guide and Progress Chart
20 pre-recorded classes
Challenge 3
One 1 on 1 personalised studio session
2 Face To Face Classes or Live Streaming per week
A Nutrition Guide and Progress Chart
10 pre-recorded classes